Community Assessments/Strategic Planning
There is no perfect community for the attraction/retention of economic development. However, companies will be attracted to the best communities. The community assessment strategically analyzes your community's strengths and weaknesses for attracting/retaining economic development. It provides recommendations and action steps that help you to better attract investment by selling your strengths and minimizing your weaknesses.
Target Industry Analysis
Businesses will cluster in regions that are best for their success. Our unique target industry methodology utilizes actual location/expansion information, not outdated census-type data, to determine real clustering patterns in your area, why these location trends will continue and how your community best matches up for attracting more. We provide invaluable target sector data (by NAICS) profile information that you can use to build your target portfolio and begin your target marketing.
Sample graph from the Greater Springfield (IL) Chamber of Commerce Target Industry Study: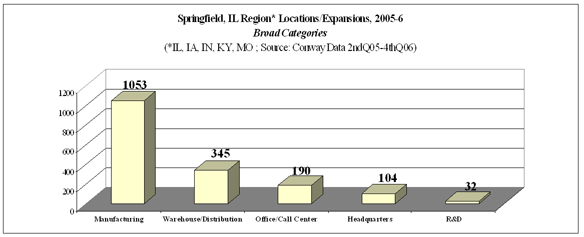 Economic Impact Analysis
How will new locations/expansions or plant closings impact your area? The economic impact analysis will carefully measure critical economic impacts (multipliers) to new investment (or decline), including jobs, payroll, and taxes. It measures both direct and indirect employment, output and value added impacts on the regional economy, information essential for your planning and for selling your projects.
Sample from LeeTran Transit Facility Economic Impact Analysis, November 2008: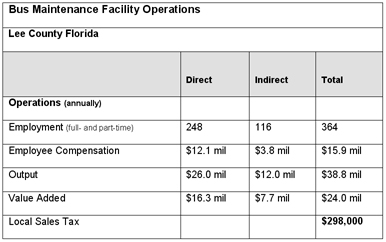 Workforce Analysis
It is clear from looking at recent demographics that with the retirement of the "Boomers", labor availability will simply not keep up with demand into the future. Careful workforce analysis is essential in order to assure that the needed skills are available in your community. FCG specializes in corporate and community studies that may include: cost/availability/quality analysis, underemployment studies, commuter analysis, training needs assessment, "Green" skill needs assessments, and organizational/funding analysis.
Sample of FCG Availability Index results: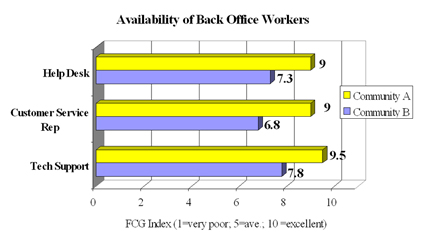 Target Marketing & Implementation
Getting your message to the right targets is what economic development is all about. We have developed a time tested method that involves:
strategic planning
target research
direct mail/telemarketing/appointment setting - what we call economic tele-development
The result is that you get in front of the right decision makers, so that you can do what you do best, sell your community!
Freight/Logistics Model and Analysis
Freight costs are driving many location decisions, but sadly, most economic developers do not understand the important details of logistics modeling. FCG has developed a unique, proprietary freight model and analysis designed exclusively for economic developers. It tracks truck, rail, air freight and even barge freight costs, so that you can do a professional job of advising and selling your clients as to why your community will work for them.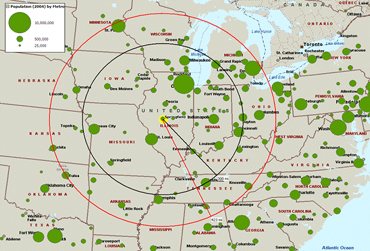 Cost Comparison Reports
Corporate decision makers want to understand the "bottom line" advantages. The cost comparison report takes a hypothetical target project and runs cost and condition comparisons between your community and your competition, including labor, real estate, utilities and cost of living. The results can be compelling reasons to take a closer look at your community!
Sample from Springfield (IL) Back Office/Call Center Cost Comparison Analysis, 2008: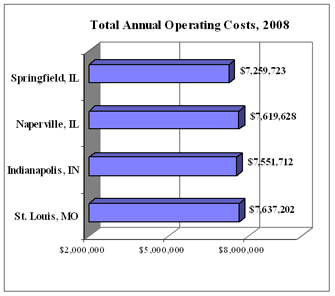 "Green" Planning & Consultation
Sustainability is a sign of the times in every facet of our society today. Planning and implementing "Green" components (such as land use elements and incentives) into your economic development work plan tells your clients that you welcome sustainable development. We can help you plan these strategies which can attract/retain more "Green" business.
Contact mobile: (480) 399-4854 • email: deane@footeconsulting.com