We offer professional and confidential site selection services to assure that your project will come in on-time and on-budget. This phased screening process produces a weighted decision matrix (see below). It takes the number of potential locations to a manageable number (2 to 5) and provides the clear conclusions that allow you to make a confident final choice. Our extensive economic development connections guarantee a smoother and more complete process. Elements include:
Community Assessments/Demographic Analysis
Workforce Analysis
Real Estate Analysis and Due Diligence
Logistics/Freight Modeling
Relocation Analysis
Incentive Analysis and Negotiations
We have assisted site selection projects that have created over 5,000 jobs and over $1 billion in capital investment for clients such as MeadWestvaco; Wal-Mart; Coca-Cola; Staples; Country Fresh; Forest City Stapleton; W.W. Grainger; and TranSystems in recent years.
Wal-Mart Distribution Center Program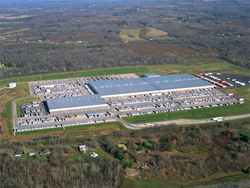 Contact mobile: (480) 399-4854 • email: deane@footeconsulting.com